Contact American Pro Diving and Manatee Snorkel Center
821 S. E. Hwy 19 Crystal River, FL 34429
1-800-291-DIVE (3483)
1-352-563-0041

Visit Crystal River on a snorkel with the manatee tour to see Florida all year.
Offering 2 locations to snorkel with manatee on
Crystal River and Homosassa.
Snorkel or dive the lazy Rainbow River Florida.
Discount scuba diving packages and dive the caverns.
The view is breathtaking on Manatee Tours.
Onsite scubadiving class with our indoor pool.
Just a phone call away for several guided dives.
Open water scuba class and Referral dive instruction.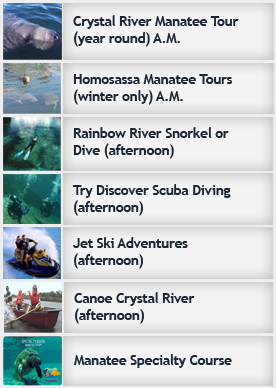 Contacts
American Pro Diving Center
821 SE Hwy. 19 Crystal River, Florida 34429
Call us at 1-800-291-DIVE (3483) or 1-352-563-0041

Fill out the form below to receive an E-mail request
Due to the limited seating on our trips or classes a seven day notice is required for cancellation. Upon your reservation we are saving a seat or seats for your experience where others may have to be turned away due to seating availability. Thank you for your understanding.